Credit: BBC
https://www.bbc.co.uk/news/uk-54861880
 (8th November 2020)
Freight drivers who are not UK citizens and have been through Denmark in the last fortnight are warned they will be turned away from the British border.
It follows concern over a new coronavirus strain that has spread from mink to humans.
Returning drivers who are UK citizens will have to self-isolate for 14 days along with their households.
It comes as further 156 people in the UK were reported to have died within 28 days of a positive coronavirus test.
It brings the overall UK death toll to 49,044, according to government data. Both the number of UK deaths and the daily cases - 20,572 in the past 24 hours - mark a significant drop on previous days, but Sunday figures are often lower due to a lag in weekend reporting.
The new rules for hauliers returning from Denmark began at 04:00 GMT on Sunday - and follow a ban on all non-UK citizens coming to the UK from Denmark.
Any UK citizens who have travelled to Denmark must isolate for 14 days, along with their household.
Passenger planes and ships carrying freight (as well as passengers) from Denmark will also not be allowed to dock at English ports.
Cabin crew are also no longer exempt from the quarantine rules - which Ryanair described on Saturday as a "bizarre and baseless" move.
The Department for Transport (DfT) said the latest rules followed the release of "further information" from health officials in Denmark, where some 200 people have been found to have mink-related mutations of virus, most of them connected to farms in the North Jutland region.
The travel ban and extra requirements will be reviewed after a week, the DfT has said.
Asked about the restrictions by the BBC's Andrew Marr, Foreign Secretary Dominic Raab denied the suggestion they were "draconian", insisting the government had taken "safe and responsible steps" in light of the "new and evolving" science on the mutated virus strain.
He told the Andrew Marr show: "I wouldn't describe it as draconian taking a precautionary measure that if and when we come up with a vaccine it can't be sidestepped by a mutation in the virus that the Danes have found through their mink population.
"I think that's a common sense measure that the public would expect us to take."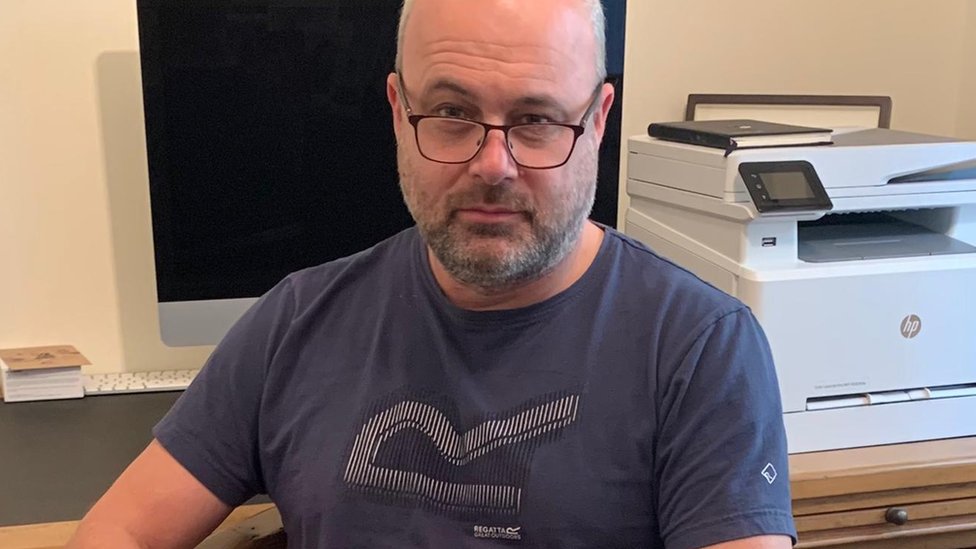 John Littleton, who returned from a business trip in Denmark on Friday, says he would have done things differently if he had known how rules would have affected his family.
"I was in Denmark on business. My flight back was Friday afternoon.
On Friday morning a colleague told me that Denmark had been put back on the restricted list. I assumed I would have to self isolate for two weeks. There was no official contact.
Once home I started self-isolating. On Saturday morning I missed a call from the tracing service who said they would ring me on Sunday.
Last evening, two police officers arrived at my home. They read out a statement recommending the whole household self-isolate for two weeks. It was rather ambiguous - but the police said we would be fined if we didn't.
Both my son and his partner now can't go to work. She is a teacher, he manages an electrical retailer. Not being at work causes real problems.
When the announcement about Denmark was made, there was no that the entire household would have to self-isolate. If it had said that, I would have done things differently - perhaps I would have stayed out there or isolated somewhere else upon my return.
I just don't understand why such extreme measures are being taken. I was not in the north of Denmark and followed all social distancing guidelines while there. Denmark are only imposing local restrictions.
Why can I not simply be tested, so that the rest of the household can carry on with work? As usual, the whole situation is being handled in a haphazard way with little thought."


Rod McKenzie, managing director of policy at the Road Haulage Association, said the latest restrictions were "significant and unique" because lorry drivers working in supply chains have been "exempt" from travel quarantine rules.
He suggested that whilst different organisations, such as supermarkets, may have their own plans to address any supply issues, he warned that if the restrictions continue for a "long time" there could be "a potential disruption to bacon supplies in the UK".
Meanwhile, Logistics UK, a freight trade body, said the industry was "agile" so "importers can switch between transport modes to ensure that products still arrive".
In a statement it added: "Much of the ferry transport between the UK and Denmark is sent in unaccompanied trailers, so drivers simply collect their loads from ports, with no need to travel across the border.
"The industry will continue to maintain high levels of vigilance and follow all necessary health protocols to protect the UK."
In England, where a new national lockdown came into force on Thursday, people are still allowed to travel overseas for work or education trips.
Leaving home to go on holiday is currently banned for most people in the UK.
Denmark's Minister of Foreign Affairs Jeppe Kofod called Mr Shapps' travel announcement a "very drastic step" and said he had discussed it with UK Foreign Secretary Dominic Raab on Saturday.
Denmark had been taken off the UK coronavirus travel corridors list on Friday after it first became apparent the mutated form of coronavirus was present in the country. It meant any passengers arriving in the UK from Denmark would need to self-isolate after their arrival.
The Department for Health and Social Care estimates that between 300 and 500 people have arrived in the UK from Denmark in the last 14 days.
Officials will contact anyone in the UK who has been in Denmark in the last fortnight to make sure they also self-isolate.